2021 is a year that is full of opportunities and challenges once again. Many thanks to the industry colleagues for their support and cooperation from Enrichment Holding Group. We created another successful year !
It is particularly worth quoting Kazuo Inamori's new book "The Heart" this year as a starting point: The secret to a happy life is to consistently respond positively to a situation, no matter how harsh it may be. In this special year hold your heart, move forward, find you starting point again.
Everything is actively strive to the best direction of development.It is the cumulative efforts that promote the qualitative leap. All the experience this year accelerated personal growth, increased the enterprise core competitiveness, expanded new business areas, refined our services and made us prepare for future developement.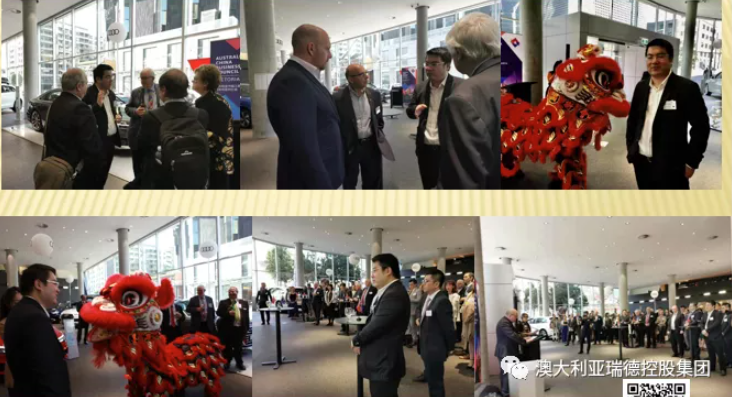 In 2021, Enrichment Holding Group expanded new overseas markets and trade fields on the basis of the original trading system, especially in the trading business and make breakthrough progress. The so-called "neither breaking nor standing", to comply with the trend of development, optimize the allocation of resources, leading the enterprise to rise to a new level.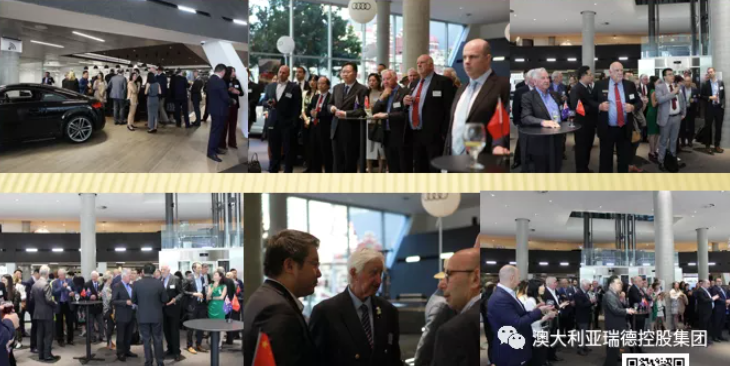 In 2021, a series of activities such as "Real Estate Investment Seminar" and "Real Estate Investment Client Family Activity Day" will be held regularly in Melbourne, and the enthusiasm of real estate investment is still enthusiastic. Real estate is hard currency, which will maintain value and appreciate at any time. Real estate investment is suitable for long-term holding and is the safest way of investment as old-age security and family inheritance. In Australia, private property is protected. Real estate is more permanent, without inheritance tax. Interest and depreciation of real estate loan can be deducted from personal tax. The meaning of life can be satisfied in Australia: free, happy and healthy life, with the power and ability to choose what you like to do!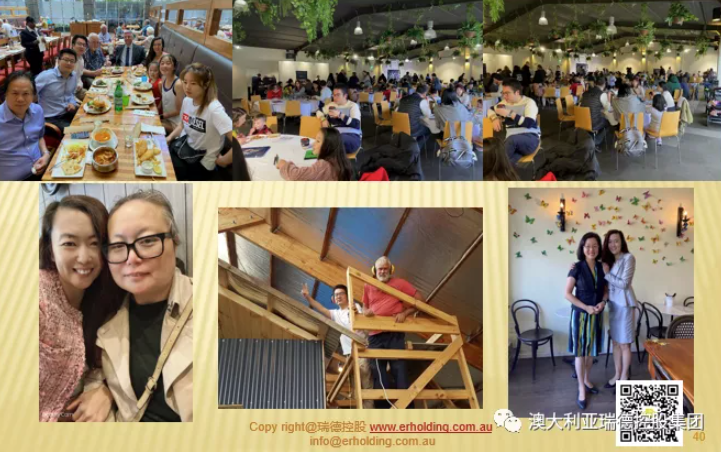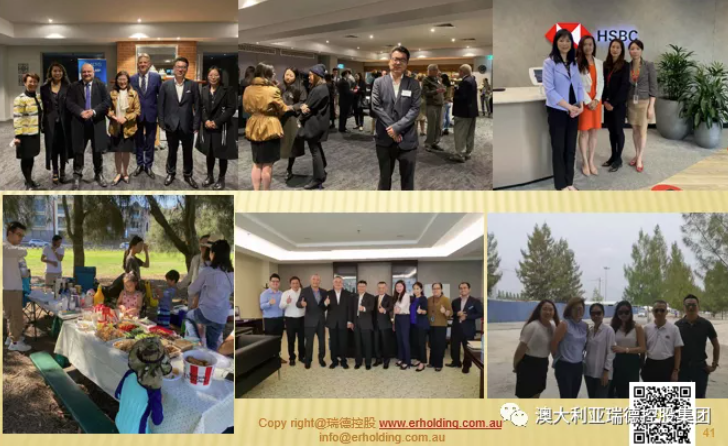 To 2022: Just like the earth, which is generous and peaceful, a man of virtue should have ample virtue and accommodate all things. (The Book of Changes)
Enrichment Holdings Group agricultural trade, study and research cooperation.
At the beginning of 2019, the president of Australia Reed Holdings and his delegation went to The Australian farm again to launch new trade cooperation in the New Year. The cooperative farms include: fruit plantations (peaches, grapes, cherries, avocados, oranges) in NSW and Victoria, wine wineries in grape plantations, barley and wheat cultivation base of more than 1 million mu, a variety of high-quality Australian agricultural and sideline products export (honey, fisheries, various meat).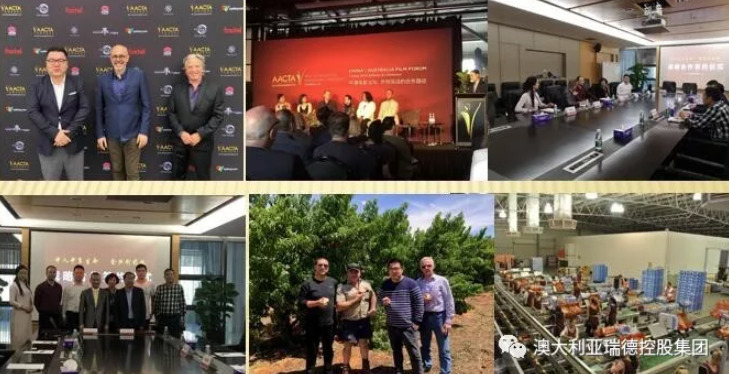 Enrichment Holding has confirmed long-term cooperation intention with many enterprises in Victoria and Enrichment Group will join hands with many enterprises under many agricultural alliances in Australia to establish multi area cooperation with Chinese enterprises. These include high-tech pollution-free planting, fruit export, property management and international financing, CNC Internet and big data docking/analysis, and other pre-research on efficient agriculture.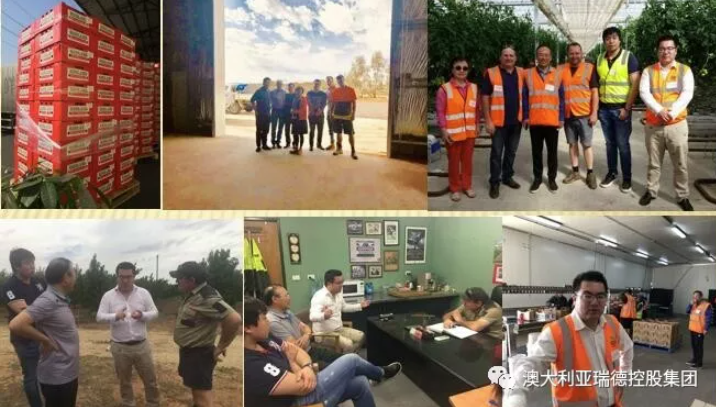 Enrichment Group will establish a production, learning and research cooperative base in Australia with local enterprises and universities in Australia and China. To provide more and safer food, and to enhance the cooperation and exchange of agricultural technology, capital and culture between Australia and China.
Project cooperation investigation in Malaysia
Zhong Ren Real Estate Development Group, Enrichment Holding Group, visited Malaysia to investigate cooperation projects. Success needs hard work, more need opportunity; Not only to have a broad vision and mind, like-minded partners and professional team is more important! International resource integration will be a long-term development trend in the future.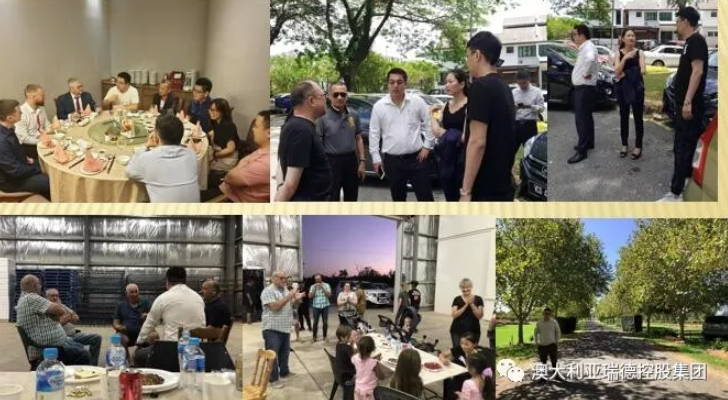 Australian delegation visits China's agricultural science and technology projects
In April 2019, Enrichment Holdings Group led an Australian agricultural science and technology delegation to visit the agricultural planting areas in Jiangsu and Zhejiang provinces of China and investigate efficient agricultural projects. Combining the advantages between China and Australia, we discussed and developed hardware facilities suitable for Australian and domestic experts. At the same time, the introduction of Australia's advanced design, planting and management experience has reached a win-win contract mode. At the same time, they visited the agricultural products cold storage equipment, logistics and other integration of agricultural science and technology system.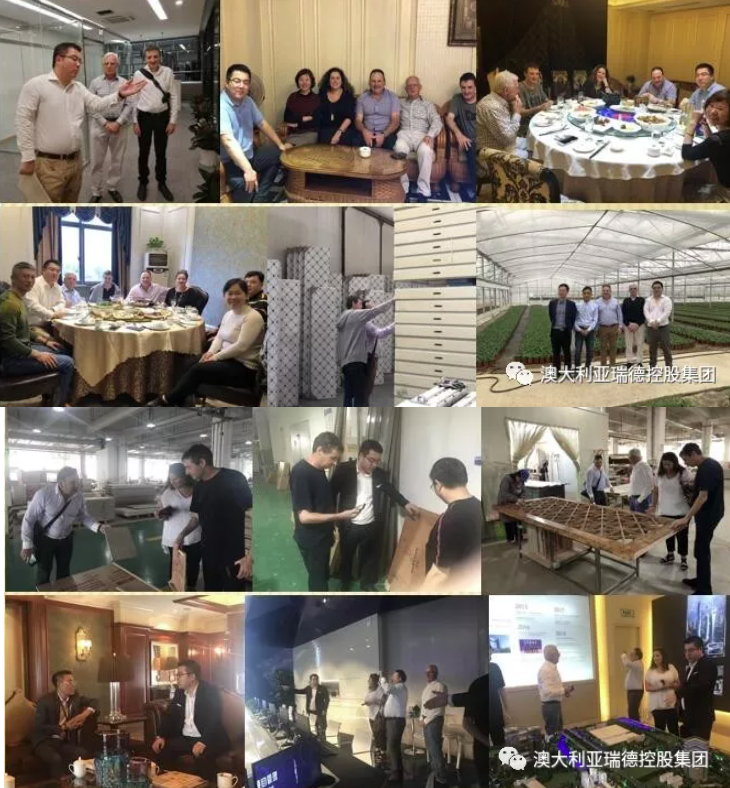 Chinese-australian Equestrian Exchange Meeting
Enrichment Holding Group, together with Chinese and Australia professional equestrian training schools, especially for those who need to do rehabilitation training, exchanges and cooperation, jointly create new business areas, to provide more effective training for more students.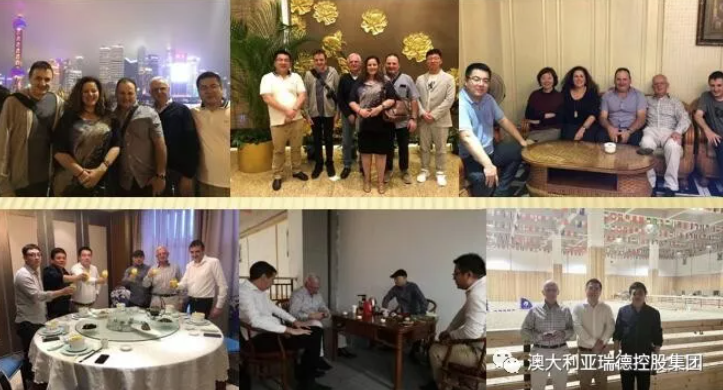 Malaysian government Delegation to the Belt and Road Initiative
Zhong Ren Real Estate Development Group, Enrichment Holding Group were invited to attend the second Beijing "Belt and Road" Forum for International Cooperation. And meeting again with The Minister of Housing and Local Government of Malaysia, Ms. Ma. She is an important member of the Malay group for the Belt and Road Summit. She is also an important female minister in the new government.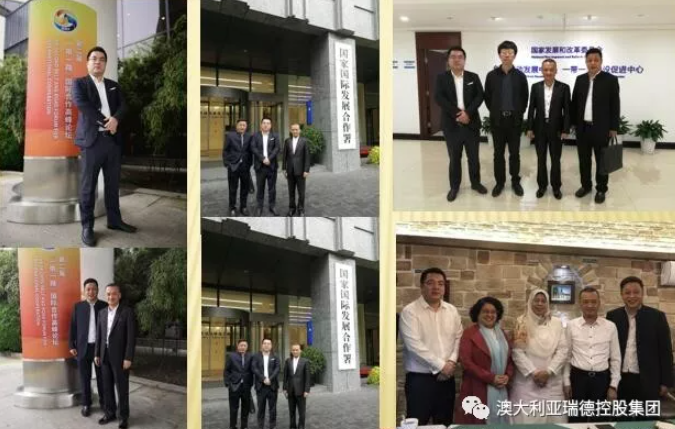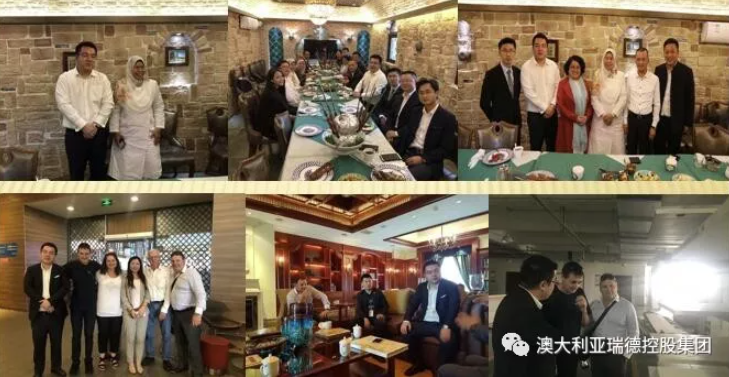 Cheng Liang Grain group and Chengdu Yimin trade investigation
In 2018, Enrichment Holding was invited to participate in the "First CiIE" and signed the order. In 2019, Enrichment Holding welcomed a delegation from Chengdu Yimin and Chengliang Group. They visited more than 1000 acres of stone fruit bases and packaging plants; Large barley growing and transportation transfer stations; 2,900 acres of vegetable and fruit planting and storage base. Local government councillors and officials from the Ministry of Agriculture were present to welcome the visit, to build Australian friendship, win-win cooperation and provide more and better Australian products !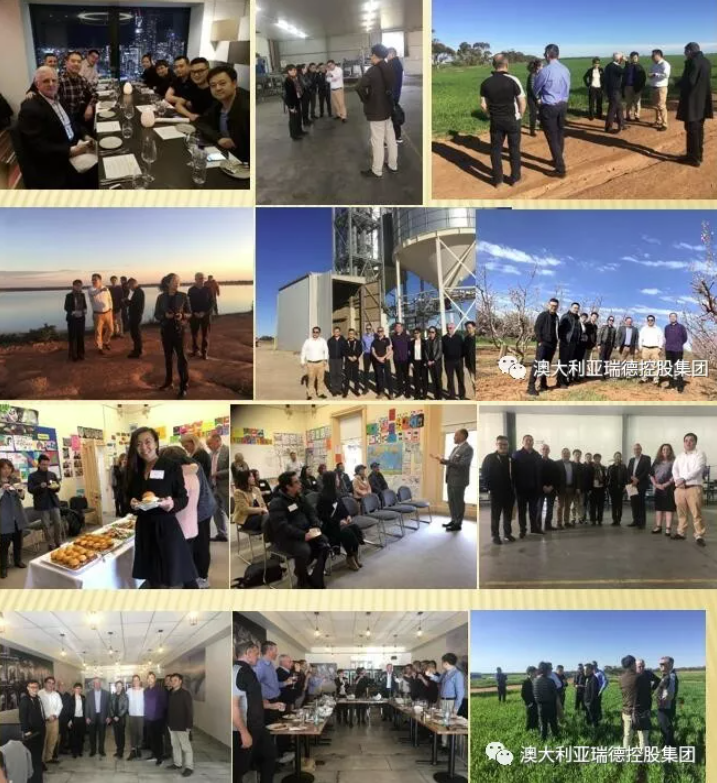 During this investigation, not only did I personally visit the barley field to see the crop growth and soil quality, agricultural machinery, storage and reservoir, but also I was attracted by the vast and green scenery in front of me, expressing my hope and joy for the harvest. Then they came to visit the grain processing, for the barley harvest of wheat cereal products such as, concentration and processing, drying, storage and transportation process a detailed consultation and visit, understand the farms with domestic different style scale and process, etc., delegation, said the Australian local agricultural industry chain is relatively large and complete, process refinement, scientific operation and quality assurance, More recognition and confidence for importing barley. As the selected farm parks and factories of Enrichment holding Group, the high-quality professional services and products will bring the basic guarantee for this cooperation without exception.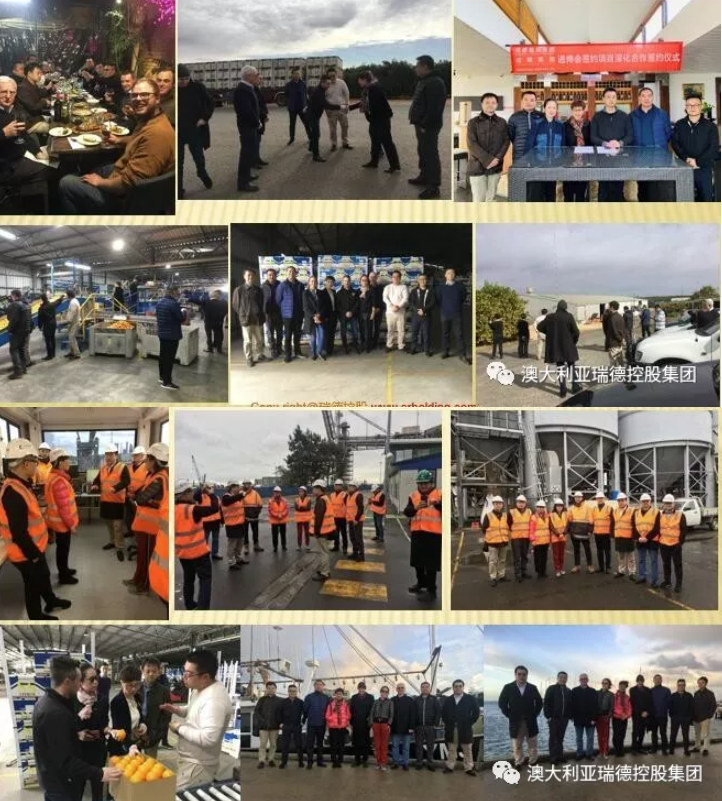 A group of people drove to visit the fruit packaging factory, high-tech production lines, professional testing technology, strict quality control, high-precision screening process, etc., have won the delegation's recognition and appreciation. August is the harvest season for orange, lemon and other citrus crops in Australia. The trees are covered with golden fruits. After obtaining permission from the farmers, the delegation went into the woods and picked some plump fruits among the green branches and leaves. Then turn to the nectarine, honey peach planting area, grape planting area, the breath of spring is coming, a large sea of flowers and the dimples of flowers are also saved into everyone's camera. So far, from the planting source to the processing and transportation, the Sichuan delegation had a comprehensive and detailed understanding and experience of the farm park in northern Victoria, Australia. The inspection in Victoria was successfully concluded. The delegation drove to South Australia in the afternoon to continue the inspection of the winery.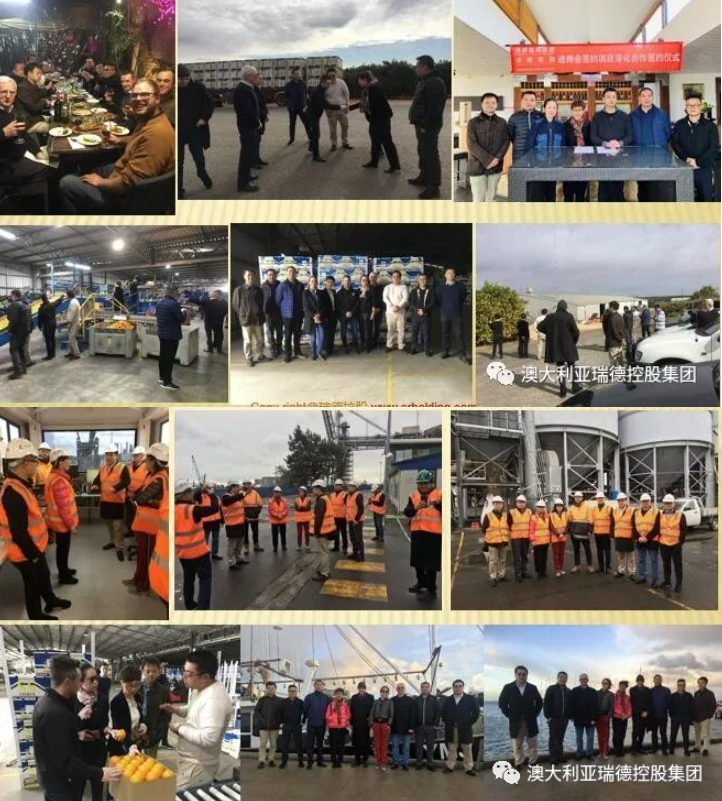 After the trip to South Australia, the delegation returned to Melbourne and visited the terminal inspection logistics and shipment station located in the east of Melbourne without stopping. The group visited the site with safety equipment and listened to the staff's explanation. Everything from sample collection, distribution, testing, standard assessment to loading, scheduling and transportation was strictly controlled and highly coordinated, paving the way for china-Australia import and export trade cooperation. In the evening, the group flew to Malaysia to continue their journey, and the trip to Australia came to a successful conclusion.
Sino-australian cooperative "worker-student" training program for elderly care workers and auto repair
After a series of government, school and employment meetings in 2018, The China-Australia cooperation "work-study" training program for elderly care workers and auto repair is now progressing smoothly, and all parties are making intensive preparations. Purpose: It not only injects fresh blood into the nursing workers and auto repair industry in Australia, but also provides a new opportunity for international students who want to learn the advanced maintenance knowledge and experience in Australia.
On February 18th, GUANGDONG TV station arrived in Melbourne CBD and BoxHill campus to conduct on-the-spot interviews, investigation and film shooting for specific projects. The special program will be broadcast on GUANGDONG TV station and related online media at the end of this month.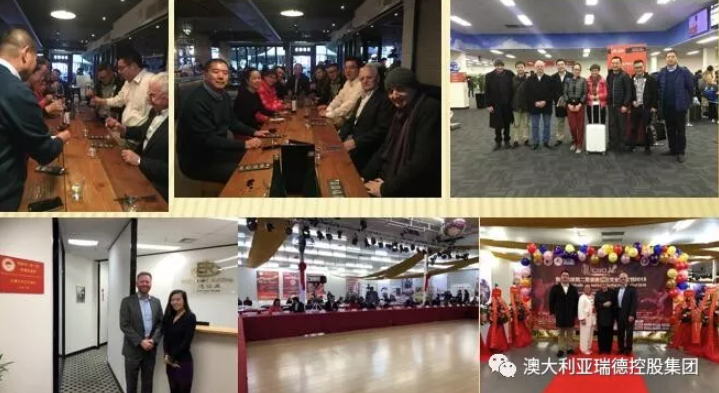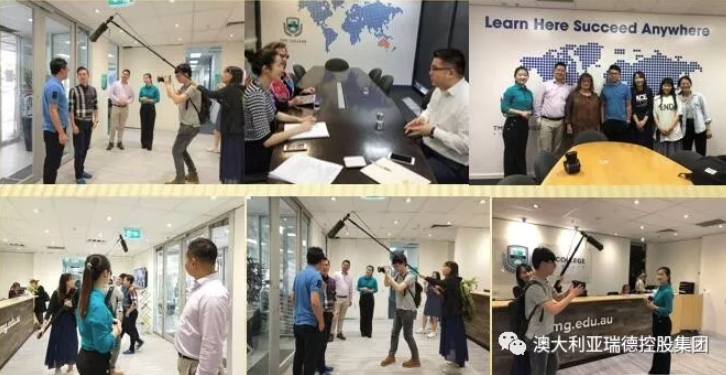 As a project partner in Australia, Enrichment Holding has more than 10 years of experience in sino-foreign cooperation in education, school contact and project operation, with numerous successful cases. It has also made great contributions to the business and academic exchanges between China and Australia, and has built a friendly bridge and won a good reputation in the industry over the years.
The interview and filming of the trip went smoothly. Enrichment Holding adheres to its original intention to build a bridge for Education between China and Australia, promote communication and strengthen exchanges. Therefore, Enrichment has cooperated with a wide range of professional colleges and courses such as auto repair and preschool education, and has also established long-term and stable cooperative relations with more major professional colleges in China and Australia, staying true to our original aspiration and forging ahead.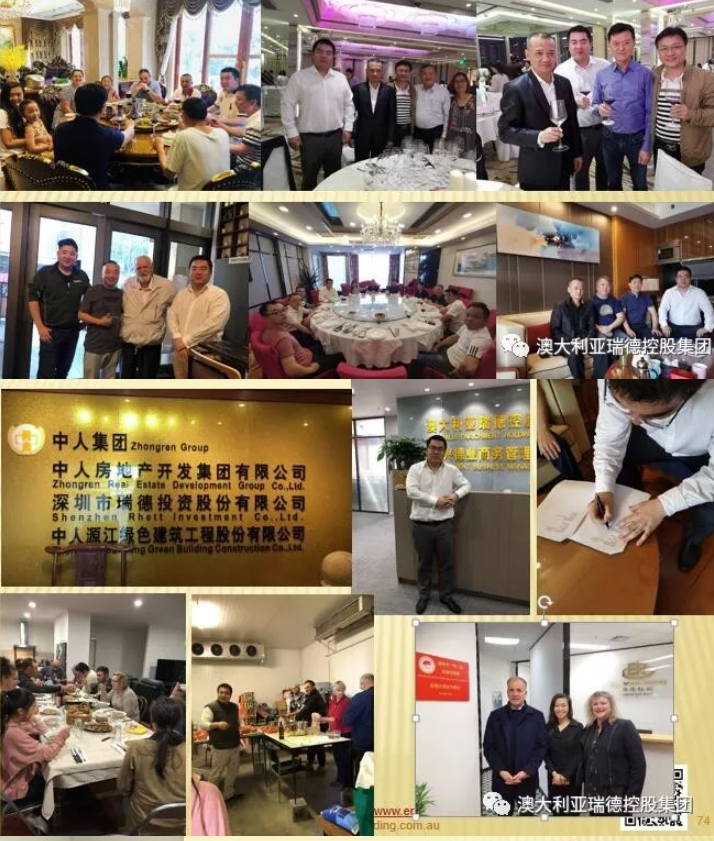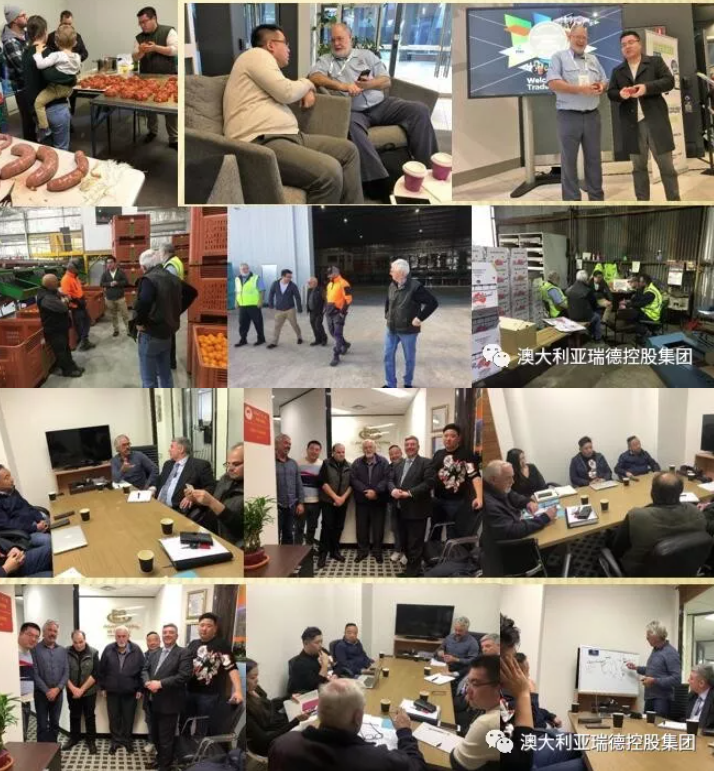 The motto of the director of Enrichment is: thinkright and work hard. We also use Mr. Li Ka-shing's speech to express our expectation for the future: positive, optimistic and upward to promote the good development of affairs, overcome difficulties and transcend limitations, be energetic, pursue higher level and explore infinite possibilities.
Company Profile
Enrichment is an Australian real estate development company. It has over 40 years business experience. It has maintained long-term friendly relations with Australian government departments and government departments of other countries, and has also maintained long-term friendly cooperative relations with Australian enterprises, overseas enterprises and overseas investors.
Forty years of successful operation has witnessed the brilliant performance of Enrichment. The motto of the director and the company is: Think right and work hard. The business philosophy of Enrichment is "altruism", and the ability to create wealth for others is the real value and wealth of Enrichment enterprise!
Enrichment was founded in the 1970s. The inheritance of two generations, rich business resources, broad business platform, direct and efficient cooperation and communication channels, good reputation and performance, and huge group cooperation are the advantages of Enrichment enterprise standing in the political and business circles for 40 years.
Enrichment 40 years of precipitation, steady self-restraint temperament, open attitude, long way to go!
Company History
The background of Enrichment enterprise was founded in the 1970s, two generations of inheritance, the main business involved in law, trade, projects and real estate development, and other related fields. In the legal field, we have a plenty of sucessful cases of appeals from the Supreme Court of Australia for clients or enterprises, and successfully established more than ten listed companies in Australia. In the trade sector, we successfully facilitated hundreds of imports and exports between Australia and other countries, trade categories and products or services across a wide range of business sectors; We have successfully undertaken and operated a number of government projects, such as the construction and operation of public facilities, and successfully developed dozens of real estate development projects all over Australia, especially Victoria. Enrichment commercial resources, broad commercial platform, direct and efficient cooperation and communication channels, good reputation and performance, and huge group cooperation are the advantages of Enrichment enterprise standing in politics and business for nearly 40 years.
Business Introduction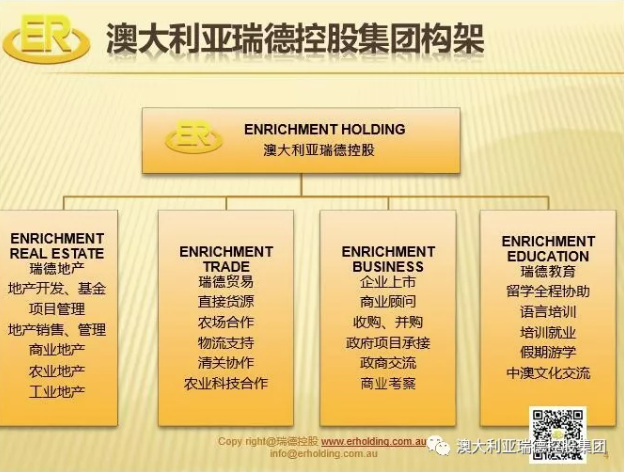 Direstor's Message
"To the chamber of commerce is the Enrichment has been pursuing". As the Australian project development, investment operation group, Enrichment enterprises, as always, adhere to the pragmatic concept of "stable development", to defend the interests of every partner and investment customers. "Team cooperation" is the traditional advantage of Enrichment people, "sustainable development" is the excellent quality of Enrichment people, "steadfast, enterprising and responsible" is the standard of enrichment people to measure talent. The political and business partners of Enrichment Company are all leading institutions with more than 40 years of industry background in Australia. The cooperation and personal relationship with Enrichment Company is also more than 10 years. "Creating wealth" is not the ultimate goal that Enrichment people pursue, but the measure of self-worth of our people. The development and performance of the enterprise is attributed to every employee, partner and customer. Enrichment holdings has been working hard for the effect of 1+1>2. "Focus, heart, mutual assistance" is the culture of our enterprise, it is convinced that we can make the far-reaching development of the enterprise. We will show you a world full of surprises! Enrichment holdings sincerely thank and welcome every like-minded business partners and customers, we are going forward together!
Enrichment Group includes:
Enrichment Holding Australia
Enrichment Holding Shenzhen
Jiangsu Enrichment Business Management
Enrichment Hong Kong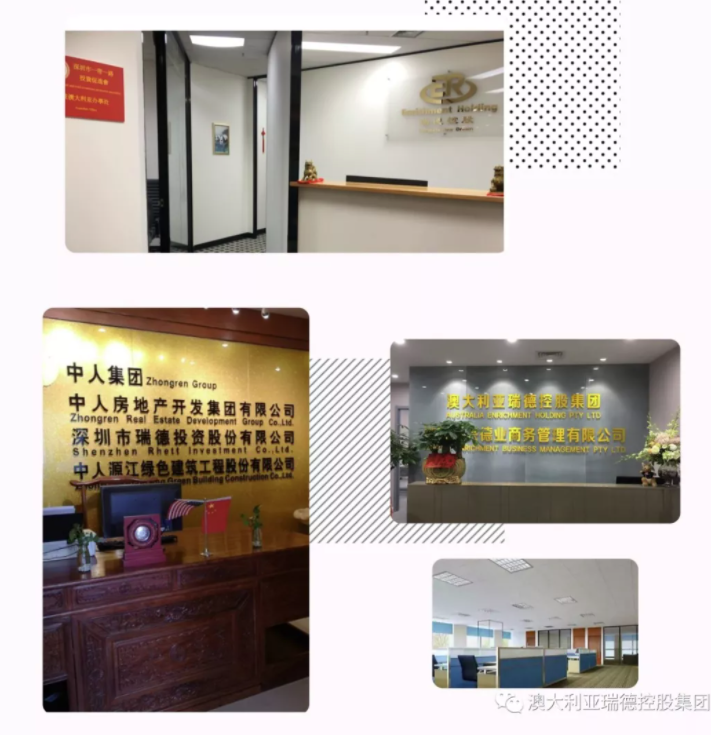 More Company photos